May 18th Update from the Field
On May 5th, EOS launched a 10-day campaign to raise $50,000 to support an immediate and lasting emergency response to COVID-19, with 100% of the proceeds going to Central America. These funds will provide critical education to help slow the spread of the coronavirus, community drinking water treatment solutions, chlorine distribution, and hygiene trainings to rural communities in Nicaragua and Honduras.
The need for safe drinking water could never be greater. Since the start of the pandemic, we have seen a substantial increase in the demand for our water treatment systems. Over the past three weeks alone, we have received requests to install over 215 water chlorinators in rural communities which is almost 200 more requests per month than we received before the outbreak of the coronavirus. There is also a significant increase in use and demand for chlorine tablets from rural communities. The WHO has published a guidance report, citing the effectiveness of chlorine to treat the coronavirus in drinking water. As the pandemic continues, our in-country teams are now in need of hiring new staff to meet this increase in demand and help slow the spread of the virus in Central America.
We are thrilled to announce that we have received over $47,040 in donations. We are extremely grateful and humble for your support and generosity, especially during such challenging times. We would like to thank everyone who has already donated including all matching gifts.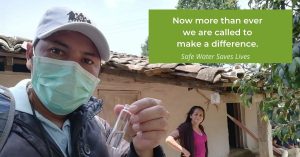 Listen to a recording of EOS' Live Update from the Field
On Tuesday, we had a Live ZOOM update from the field featuring EOS' Country Directors Diana Calix, and Alvaro Rodriguez, along with EOS' CEO and Co-founder Wes Meier. During the call, we shared the latest news in Honduras and Nicaragua and our response to keep both the rural communities that we serve as well as EOS staff safe during this pandemic. If you were unable to attend, you can click here to listen to the recording of the call.
News from the Field
Our staff continues to provide invaluable service to our rural communities. From installing chlorinators to delivering chlorine tablets and planting school gardens to provide nutritious snacks for children, our staff remains on the front lines. Here are a few photos of our work.