Families Lifting Themselves Out of Poverty
Reyna Garcia was one of the 101 recipients of EOS International's improved oven in 2017. In her small village of Waswali, Matagalpa, employment opportunities are limited, especially for rural women, where transportation to larger cities can be sparse and unreliable. Many remote families in Nicaragua are substance farmers, creating enough crops for their families and selling the extra they have at market. This can be a challenging, meager lifestyle.
However, Reyna wanted more. She wanted more for herself, her husband, and her five children. So, Reyna decided to take a leap of faith. With a small personal investment, EOS provided her with an improved oven outside of her home. These unique ovens use eighty percent less firewood than traditional Nicaraguan ovens (saving money for firewood and reducing deforestation) as well as being safer and more reliable.
With her new installation, Doña Reyna started a business in her own backyard baking breads and pastries to sell at the local market. As her bakery has grown she has been able to offer employment opportunities to her family and neighbors. In addition to the technology installation, EOS provided Reyna with baking, business, accounting, and marketing courses to help women entrepreneurs like her succeed.
But Reyna's story isn't unique. Since 2008, 140 women-owned businesses have been created across Nicaragua, increasing annual incomes by more than 80 percent. After each installation, EOS marks the technology with GPS coordinates and returns later to conduct qualitative surveys with beneficiaries, in addition to making sure the installation is maintained and functioning properly.
The results from these 2017 surveys indicate:
53.8% of the women with EOS' improved oven report starting a business
71.2% of beneficiaries use income received from their bakeries to sustain their home
19.2% have re-invested their income into their business
18% of women are selling their baked goods outside of their communities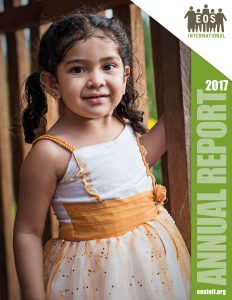 The survey found that the average rural family makes approximately $913 in annual income. The initial increase in their income from the start of their bakery is 1.7 times that number – quite promising for any entrepreneur.
Learn more about the impact EOS has had on small businesses owners in our 2017 Annual Report.