From Mountain to Fountain: How it Works
It starts in the mountain.
Safe, accessible drinking water is a basic right yet lack of access to it is one of the greatest threats to human health, responsible for over 3.4 million deaths worldwide every year, most of them children. Studies have shown that over 50% of unsupported international community water system projects fail and remain unrepaired because of insufficient operational, technical, and financial capacity, and a lack of ongoing technical and community support within five years.
EOS works to change this by providing sustainable, long-term support every step of the way from the water source in the mountain to a glass of safe drinking water from a tap of a fountain. We have found one of the most critical factors for the long-term success of rural water systems is the continual community support.
We work with established water systems in mostly mountainous parts of Central America. How does it work? Pipes flow down the mountain to a central tank where we install a chlorinator to treat the water and kill harmful bacteria. Water is piped from tank and distributed to each home. We found that over 90% of rural water systems test positive for contamination. We install a chlorinator in the tank so water is safe to drink. Then we provide ongoing monitoring, training and chlorine distribution to each community through our Circuit Rider model. Over 12,000 rural communities in Central America so it is impossible for a community to treat their water on their own. That is where we step in.
Our innovative approach starts with the Circuit Rider at the top of the mountain working with community water boards to first test and then install water chlorinators to provide safe drinking water to the community. We found that over 90% of rural water systems test positive for contamination. Thus, the most effective way to treat the water and kill harmful bacteria is by installing a chlorinator into the water tank. The treated water is then piped down and distributed to each home.
However, their work doesn't stop here. As soon as a chlorinator is to be installed in a community, EOS' assigns a Circuit Rider who provides regular water quality testing and analysis, operational and technical education to the water board and ongoing chlorine tablet distribution and monitoring. EOS' Circuit Riders work directly with the community training and organizing community water boards, empowering women in key leadership roles within the board, ensuring transparency to the community, and the promotion of safe water handling and hygiene practices at the community level. This support system helps build the skills the community water board needs to successfully run and maintain their own drinking water systems for the long term.
Together, our team visits over 500 communities a year across 17 municipalities, reaching over 250,000 people. A single Circuit Rider can support 50-75 rural communities a month. Providing safe drinking water starts at the top of the mountain and flows to each household tap through support from our Circuit Riders.
From Mountain to Fountain: Reaching the village of San Francisco in Nicaragua
In 2019, a long line of hikers, community members, EOS staff and impact travelers visited on of EOS' longest standing water projects in the mountainous terrain of Nicaragua. They started in the village of San Francisco, a community of around 300 homes and 1500 residents who are primarily farmers, cattle ranchers and  artisans. San Francisco is known throughout Nicaragua for their rope work and makes plastic rope and hammocks for most of Nicaragua.
It is a thirty minute hike up the mountain, following a narrow, rocky trail to reach the community water tank and water chlorinator.  To date this is EOS' largest system running over 20 gallons per minute. The village of San Francisco has had excellent clean water for over 5 years and recently upgraded their system to the new and improved chlorination model that provides more actuate dosing and flow control.
This community has established a water board made up of individuals who collect monthly payments from its residents, clean the water tanks and manage the system. Daily these community members take this 3km hike to the water tank and source of the water to test chlorine levels and monitor the system.
Since installing the EOS water chlorinator, the community has seen a substantial decrease in sickness and diarrheal disease. The community has been more productive at work and their children have been healthier in school. It has truly made a difference in their lives.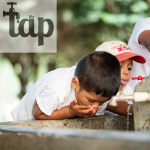 Join the Tap:
EOS' Circuit Rider model costs approximately $30/month ($360 annually) to provide water quality monitoring and training for a community over the course of 12 months. This investment helps sustain our water community for the long-haul. EOS has found that more than 90% of water systems within the communities we serve are fully operational.
For just $30 a month, you will provide 100 families (500 people) with access to safe drinking water for a year.   
Become a member of the Tap: Join a group of like-minded monthly givers on a mission to bring sustainable, long-lasting impact to the lives of an entire community by investing in access to safe drinking water. As part of the Tap giving circle, you will get access to real-time information on the community you are investing in and see the impact your donation is making to empower and save lives. Join Today!